Technical Product Manager, Teams
Posted Dec 2
Every developer has a tab open on Stack Overflow.
We are one of the most popular websites in the world - a community-based space focused on increasing productivity, decreasing cycle times, accelerating time to market, and protecting institutional knowledge.
Innovation is at the heart of everything we do. We embrace collaboration, transparency, and believe in leading with empathy; creating an environment where every Stacker knows they belong. We embrace that the unique contributions and points of view of all Stackers contribute to our success.
We are a Best Company to Work For, in addition to being recognized for Best Company Leadership, Best Company Happiness, Best Company Perks and Benefits, Best Company Work-Life Balance, Best Company Compensation, and Best Company Outlook.
We are a remote-first company with Hiring HUBs based in the US, Canada, UK, and Germany.
About Stack Overflow
At Stack Overflow, our mission is to serve developers. Whether we're helping developers get answers to their questions, work more efficiently with their team, or find a new job, we build products that make millions of developers' lives better every day. As a technical product manager at Stack Overflow, you'll create and build inclusive products and features that directly impact the work and the lives of those developers.
In this particular role, you'll be on the Scale Pod dedicated to scale initiatives for the Stack Overflow for Teams product. Stack Overflow for Teams gives organizations a private, secure home for their team's questions and answers, as well as a robust set of tools to manage their community. Our customers include Microsoft, Bloomberg, and many other Fortune 500 names.
We're constantly exploring new features, optimizing the in-product experience for both new and existing users, and making investments in our infrastructure, release practices, and platform. We also recently added a Freemium tier as part of our product led transformation which resulted in a huge customer boost.
You will be integrated into a highly talented development team which includes site reliability engineers (dev-ops folks) focused on building and maintaining the Teams platform to support our growth and scale both in terms of customers and sales. You will build a vision for the platform, gather and prioritize requirements from stakeholders, and maintain the application support structure. This means getting in the trenches and participating in activities across the board. This is a great opportunity to work on a product with a wide variety of features and complex problems with a team that's excited to solve them.
The ideal candidate has prior experience in technology offerings and is ideally familiar with both on-prem and hosted mode of delivery, and has exposure to B2B SaaS products.
You'll have the opportunity to do a lot. Here's what you can expect during your first year:
First Month: Get onboarded and brought up to speed on our current plans, working closely with a fellow TPM on the Pod. You'll spend a lot of time learning about our products, building rapport with the product, engineering, release management, sales, customer success, and product support teams, and contributing to small features.

Next 3 Months: Acquire a deep understanding of the biggest opportunities and pain points for our internal stakeholders and customers across our product tiers, and create a short-term roadmap focused on release management, product support tooling and necessary technical investments to support our growth plans. You'll speak with internal users, stakeholders, write specs & user stories, and build and deliver functionality with your team.

Next 8 months: You will take a leadership role developing the long-term strategy and roadmap for your product area. You'll be involved not just in product development, but in defining long-term strategy, improving our processes, and advocating for the best way to enable our customers by creating a robust platform that powers the Teams product suite.

What you'll do:
Collaborate with the product team and key stakeholders to align and execute on the overall strategy for Stack Overflow for Teams
Deeply understand our customers, both internal and external, to create a strategy that will deliver value to them and the business while leveraging tech capabilities and optimizing cost efficiency
Coordinate with business stakeholders and continuously ensure your team is delivering according to the constantly growing needs of the business
Maintain product roadmap, a backlog of projects, and manage the priorities for your team owning opportunity assessment, implementation, enhancement, and support of the Teams platform
Partner with our engineering team to build and deliver features and improvements
Work closely with various stakeholders across release management, test automation, product support, sales and customer success to align strategy and priorities
Research and implement industry best practices for B2B subscription-based SaaS platforms
What we need to see:
4+ years in a technical product management or a related role on deeply technical systems
Experience with subscription-based platforms/systems in a SaaS environment, building web application at scale
Exceptional communication skills, follows up with stakeholders and team members, and takes initiative to anticipate and solve problems
Excellent spec-writing skills with a clear ability to break down complex problems into smaller, manageable pieces
Familiarity with scrum/agile methodologies
Exposure to cloud based deployments and on-prem setup preferred
Bachelor's degree in Computer Science, related engineering degree or equivalent experience is a huge plus
Also note:
We're a distributed, remote team and you'll be part of a work culture that emphasizes online & asynchronous communication with minimal meetings and ceremonies
We're generally very flexible on working hours, though we do ask everyone on the team to maintain an overlap of (at least) 10AM - 1PM US Eastern time
We don't consider applications without cover letters - please make sure to include yours and talk about why you want to work here!
Base salary will range from:
119 - 161k USD#LIRemote
What You'll Get in Return:
Competitive Base Salary
Generous paid vacation
Generous parental leave (16 weeks at 100% pay), family care leave, and unlimited sick days
Equity (RSUs) for all employees at all levels
Industry-leading health benefits that are applicable per country of residence for all our full-time employees
Company-paid Life Insurance
Health & wellness stipend
Home Internet stipend
Professional allocation for your growth and development
Home office allowance of 2,000 (for remote employees) with an additional 450 allowance on each anniversary date
Company-paid access to Calm, Bravely, LinkedIn Learning, MyAcademy and Overdrive
Stack Overflow is proud to be an equal opportunity workplace. We value diversity, inclusion, equity and belonging and these pillars are at the heart of how we work together here at Stack. All qualified applicants will receive consideration for employment without regard to race, color, religion, sex, sexual orientation, gender identity, national origin, or any other applicable legally protected characteristics in the location in which the candidate is applying.
For individuals based in California, and other locations where required, we will consider employment qualified applicants with arrest and conviction records.
Misc Info For This Position:
Remote Mix: 100% Remote
Job Type: Full-Time
Regional Restrictions: USA Only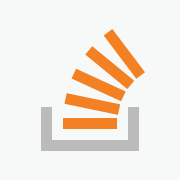 Stack Overflow

New York,NY
United States

Website
Job Info:
100% Remote
Full-Time
USA