Staff, Technical Program Manager (L4) - Segment: Cloud
Posted Aug 9
Segment Twilio is the world's leading CDP with over 20,000 customers today, with a focus on customer data infrastructure to power amazing customer experiencesdata up versus campaign down. The demand for customer data infrastructure is set to grow +34.6% YoY to 15.6B by 2026. Globally, 93% of companies are expecting to grow their CDP budget over the next 3 years. This presents an amazing opportunity to capture this market opportunity and continue to lead the CDP space.
We are growing rapidly and are seeking a Staff Technical Program Manager to join our Cloud Team who can facilitate our teams to reach our aggressive product delivery and infrastructure scale goals. Acting as the hub in a world of spokes, with an operational mindset, you will lead teams' collaboration and deftly identify dependencies and risks, resolve blockers, track and report progress, and leverage best practices to ensure predictable and timely delivery of our projects. You will be partnering and collaborating with product managers, engineering counterparts, and stakeholders across BU's, to craft and deliver on the vision, strategy, and delivery roadmap for the Cloud Roadmap. This role is critical in supporting Twilio Segment's growth efforts throughout the entire product development lifecycle and will involve working with teams across Segment and Twilio.
This position will lead the delivery of our global platform expansion to new regions, including our data ingestion pipeline that processes over 1 Trillion requests per month. This role will help take Segment to the next level of growth, while working with some of the world's leading organizations.
Responsibilities
In this role, you'll:
Structure and lead complex cross-functional programs for product and cross-company initiatives. Must be able to effectively plan, organize and drive projects to completion
Drive towards continuous improvement through adapting best practices to work with agile teams to improve project delivery
Support the transparency and communication of the health and progress of an overall program that you are coordinating. Ability to effectively communicate across all levels of the organization
Gather and analyze large amounts of information quickly in order to problem solve and drive decision-making effectively
Demonstrate a sense of urgency and ownership to drive solutions and tasks to completion
Help be an agent of change as we strengthen our Program Management across the organization
Qualifications
Not all applicants will have skills that match a job description exactly. Twilio values diverse experiences in other industries, and we encourage everyone who meets the required qualifications to apply. While having desired qualifications make for a strong candidate, we encourage applicants with alternative experiences to also apply. If your career is just starting or hasn't followed a traditional path, don't let that stop you from considering Twilio. We are always looking for people who will bring something new to the table!
Required:
5+ years experience in technical program management, project management, or operational role.
BA/BS degree in computer science or similar degree
Experience planning, tracking and and reporting on the successful delivery of high impact and highly cross-functional integrations & platform program initiatives
Ability to multi-task across multiple competing priorities in a fast-paced environment
Ability to build strong relationships, collaborate, and communicate effectively across a variety of stakeholders, including execs
A true servant-leader, there to help the teams do their best work
Desired:
Familiarity with compliance focused initiatives such as data regionalization, HIPAA, etc.
Experience in Agile Program Management
Experience in establishing and driving the adoption of program frameworks, tools, and best practices
Familiarity with cloud infrastructure technologies such as Amazon Web Services (AWS) or Google Compute Platform (GCP)
Experience within SaaS companies
Location
This role will be fully remote, and based in the United States.
What We Offer
There are many benefits to working at Twilio, including, in addition to competitive pay, things like generous time-off, ample parental and wellness leave, healthcare, a retirement savings program, and much more. Offerings vary by location.
Twilio thinks big. Do you?
We like to solve problems, take initiative, pitch in when needed, and are always up for trying new things. That's why we seek out colleagues who embody our values.
So, if you're ready to unleash your full potential, do your best work, and be the best version of yourself, apply now!
Please note this role is open to candidates outside of Colorado as well. The information below is provided for those hired in Colorado only.
If you are a Colorado applicant:
The estimated pay range for this role, based in Colorado, is 132,320 - 165,400
Additionally, this role is eligible to participate in Twilio's equity plan.
Misc Info For This Position:
Remote Mix: 100% Remote
Job Type: Full-Time
Regional Restrictions: USA Only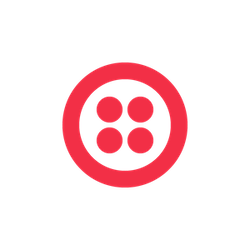 Twilio

United States

Website
Job Info:
100% Remote
Full-Time
USA