Staff, Software Engineer - Studio
Posted May 10
Location : Remote from US Eastern Time Zone
The Studio team at Twilio is growing and looking for a Software Development Engineer (L4) to join the Studio Experience Team. At Twilio, our mission is to power the future of communications and the Studio product plays a big role in fulfilling that mission. Twilio Studio (https://www.twilio.com/studio) is our low-code visual application platform for building communication workflows. It's the fastest way to build and scale applications like IVRs and chatbots on Twilio. If you're excited by the idea of making it easier for professional and citizen developers to build these communication workflows and want to work on interfaces that enable Twilio's customers, please read further.
Who?


You have:
5+ years of experience with React, RESTFul APIs, Typescript, HTML, and CSS
Experience with Jsplumb, module building tools like Webpack and compilers like Babel is a plus.
Provided technical leadership to team members and passionate about it
In-depth knowledge of at least one programming language and developing scalable systems on AWS or other cloud platforms.
Experience and passion for optimizing websites for performance
A bias toward automation, leveraging existing tools to ensure stable, clean, well-tested code gets deployed to production
Owned and operated heavily used frontend systems end-to-end from debugging and testing to release management and monitoring
The ability to communicate well- in person, on paper, or in code. You can explain technical concepts to product managers, other engineers, and support members
Empathy for your customers and teammates
You have 5+ years relevant work experience, or a relevant degree supplemented with experience in the field
What?


As a Frontend Software Engineer, you will live the Twilio Magic values:
WRITE IT DOWN: Work with other engineering teams and with members of the product organisation to distill internal and customer needs into requirements and tech specs
DRAW THE OWL: Build new features
DON'T SETTLE: Architect new systems and design APIs with a focus on testability, and maintainability
WEAR THE CUSTOMER'S SHOES: Help resolve technical issues and blockers for internal and external customers
BE AN OWNER: Drive high engineering standards on the team through code review, automated testing, and mentoring. We care what our code looks like, and you should too
EMPOWER OTHERS: Collaborate with colleagues on a small, energetic team
Why?
Twilio Studio (https://www.twilio.com/studio) is our low-code visual application platform for building communication workflows. It's the fastest way to build and scale applications like IVRs and chatbots on Twilio today. Because it is a visual tool and requires very little code, it not only accelerates professional developers to build quickly, but also enables citizen developers to directly implement on Twilio's platform without a development team. Studio is part of a larger industry trend that is helping change the definition of a developer to include anyone who has the builder mentality.
Twilio is a company that is empowering the world's developers with modern communication in order to build better applications. We are a company committed to your growth, your learning, your development, and your entire employee experience. We only win when our employees succeed and we're dedicated to helping you develop your strengths. We have a cultural foundation built on diversity, inclusion, and innovation and we want you and your ideas to thrive at Twilio.


Where?
This position can be fully remote from states located in US Eastren and Central time zones. Around the world, Twilio offers benefits and perks to support the physical, financial, and emotional well being of you and your loved ones. No matter where you are based, you will experience a company that believes in small teams for maximum impact; seeks well-rounded talent to ensure a full perspective on our customers' experience, understands that this is a marathon, not a sprint; that continuously and purposefully builds an inclusive culture that empowers everyone to do their best work and be the best version of themselves.
About Us
Millions of developers around the world have used Twilio to unlock the magic of communications to improve any human experience. Twilio has democratized communications channels like voice, text, chat, video and email by virtualizing the world's communications infrastructure through APIs that are simple enough for any developer to use, yet robust enough to power the world's most demanding applications. By making communications a part of every software developer's toolkit, Twilio is enabling innovators across every industry from emerging leaders to the world's largest organizations to reinvent how companies engage with their customers.
An overview of Twilio's benefits offered is listed below:
Twilio is committed to delivering a comprehensive benefits program that provides support needed for you and your loved ones. It's likely that you don't think about benefits every day; however, they are an important component of your total compensation, and we want you to understand the options available to you so that you can make the most of your benefit dollars. At the time of this posting, this role is eligible to participate in the following benefits, which Twilio reserves the right to modify at any time for any reason in accordance with applicable law:
Healthcare Insurance and Leave
Prescription Drug
Dental
Vision
Flexible Spending and Health Savings Accounts
Leave programs for all of life's moments: maternity, parental/bonding, as well medical leave to care for yourself or a loved one
Financial Benefits
Short and Long Term Disability Insurance
Life and Accidental Death & Dismemberment Insurance
401(k) Retirement Savings Plan with a match
Reimbursement Programs & Stipends
65 per month work-from-home stipend
Up to 50 per month for wellness expenses and activities
Up to 30 per month to use towards books/eBooks
Interview Guide + Precap:
The purpose of the Interview Guide is to build out your interview team and focus areas in preparation for the Precap Meeting, where you will review this with your Bar Raiser and interview team live. This process helps maintain alignment on the search, interview process, focus areas and interview questions. It will ensure we have a consistent interview and evaluation process and ultimately a positive candidate experience.
Misc Info For This Position:
Remote Mix: 100% Remote
Position Level: Staff
Job Type: Full-Time
Regional Restrictions: USA Only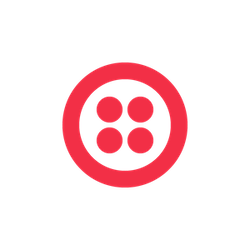 Twilio

United States

Website
Job Info:
100% Remote
Staff
Full-Time
USA