Staff Product Manager (L4) - Segment Cloud
Posted Aug 9
Segment is the world's leading CDP with over 20,000 customers today, with a focus on customer data infrastructure to power amazing customer experiencesdata up versus campaign down. The demand for customer data infrastructure is set to grow +34.6% YoY to 15.6B by 2026. Globally, 93% of companies are expecting to grow their CDP budget over the next 3 years. This presents an amazing opportunity to capture this market opportunity and continue to lead the CDP space.
This position is needed to lead development on our core data foundation that processes trillions of events per month, including job orchestration via centrifugea bespoke event delivery systemand enabling the extensibility of our product for internal teams and BUs. This role will help take Segment to the next level of growth, while working with some of the world's leading organizations.
Responsibilities
In this role, you'll:
Drive the strategic direction and coordinate efforts around new opportunities for growth of our core platform, including leading strategy around Privacy and Privacy-related products.
Collaborate cross-functionally to ensure alignment on the best strategic direction and market opportunities to tackle first
Work directly with an incredibly talented team of senior engineers and product leads to help ship products that help create amazing customer and patient experiences.
You'll also be driving the strategic direction across teams for Segment's most widely-used products, liaising between Go-to-market (GTM,) Legal, Security and Marketing.
Build a company defining product-offering from the infrastructure layer up, and lead a critical new initiative for Segment.
Qualifications
Not all applicants will have skills that match a job description exactly. Twilio values diverse experiences in other industries, and we encourage everyone who meets the required qualifications to apply. While having desired qualifications make for a strong candidate, we encourage applicants with alternative experiences to also apply. If your career is just starting or hasn't followed a traditional path, don't let that stop you from considering Twilio. We are always looking for people who will bring something new to the table!
Required:
Experience: 2-3 years of product experience
Experience with highly technical, multi-workstream product launches; distributed systems experience a plus
You can translate between the technical details, customer problems, and business impact of the team's work.
You are a strong communicator. From pitching our leadership team on what customers need to see from our products, to spec-ing a feature with a partner, you're able to thoughtfully and clearly explain fundamental reasons behind your decisions.
You are organized and comfortable working with exec-level stakeholders and drive deep customer relationships.
You can build highly leveraged products that can be used as the cornerstone for customers and internal teams alike.
You're not shy about diving in deep with engineering, security, or the customer.
You can run a tight ship, prioritizing a robust stream of work into cohesive, incremental releases.
Location
This role will be based in our San Francisco office OR Remote, USA.
Approximately 10% travel is anticipated.
What We Offer
There are many benefits to working at Twilio, including, in addition to competitive pay, things like generous time-off, ample parental and wellness leave, healthcare, a retirement savings program, and much more. Offerings vary by location.
Twilio thinks big. Do you?
We like to solve problems, take initiative, pitch in when needed, and are always up for trying new things. That's why we seek out colleagues who embody our values.
So, if you're ready to unleash your full potential, do your best work, and be the best version of yourself, apply now!
(Location dependent information)
Please note this role is open to candidates outside of Colorado as well. The information below is provided for those hired in Colorado only.
If you are a Colorado applicant:
The estimated pay range for this role, based in Colorado, is 160,072 - 200,090.
Sales Commission: Additionally, this role is eligible to earn commissions and eligible to participate in Twilio's equity plan.
Non-Sales: Additionally, this role is eligible to participate in Twilio's equity plan.
The successful candidate's starting salary will be determined based on permissible, non-discriminatory factors such as skills, experience, and geographic location within the state. This role is also eligible to participate in Twilio's equity plan and for the following benefits: health care insurance, 401(k) retirement account, paid sick time, paid personal time off, paid parental leave.
Misc Info For This Position:
Remote Mix: 100% Remote
Job Type: Full-Time
Regional Restrictions: USA Only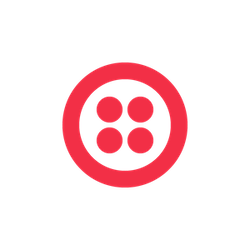 Twilio

United States

Website
Job Info:
100% Remote
Full-Time
USA