Sr. Analyst, Sales Compensation Reporting & Analytics
Posted May 11
Join the team as our next Sr. Analyst of Sales Compensation!
Who we are & why we're hiring
Twilio powers real-time business communications and data solutions that help companies and developers worldwide build better applications and customer experiences.
Although we're headquartered in San Francisco, we're on a journey to becoming a globally antiracist company that supports diversity, equity & inclusion wherever we do business. We employ thousands of Twilions worldwide, and we're looking for more builders, creators, and visionaries to help fuel our growth momentum.
About the job
Twilio is looking for a Sr. Analyst of Sales Compensation to join our Sales Compensation team. You will have the responsibility of reporting, tracking and trending analysis through Tableau, Xactly Analytics, and other Enterprise reporting tools and systems, in support of the Sales Compensation team and its operational effectiveness. Being a co-owner of these platforms and aiding in the monthly, quarterly, and other ad hoc commissions reporting, you will play a critical role in the success of our Sales Compensation team. This role has high visibility, and provides detailed commission and sales rep-related performance information to several internal Sales teams and senior Twilio Sales leadership.
Responsibilities
In this role, you'll:
Act as an organizational subject matter expert for Tableau, Xactly Analytics, and other Enterprise-level reporting systems and tools Responsible for reporting, tracking and trending analysis to support Sales Compensation and its operational effectiveness
Design, develop, produce, and test reports & dashboards through Tableau, Xactly Analytics, and/or other Enterprise-level reporting tools
Drive technology, business and business reporting adoption best practices
Be mindful of changes to the business that may impact the current solution - new products and business lines, acquisitions, reorganizations and system changes
Trace unexpected results back to their source and diagnose underlying issues. If unable to resolve directly, own coordination and resolution with appropriate resources
Coordinate with the Xactly Data Warehouse and ETL teams to integrate commission data into reporting systems and tools for consumption by other business teams
Remain current with Tableau, Xactly Analytics, and other reporting systems, tools, and products and modules through regular engagement with and training
Qualifications
Not all applicants will have skills that match a job description exactly. Twilio values diverse experiences in other industries, and we encourage everyone who meets the required qualifications to apply. While having desired qualifications make for a strong candidate, we encourage applicants with alternative experiences to also apply. If your career is just starting or hasn't followed a traditional path, don't let that stop you from considering Twilio. We are always looking for people who will bring something new to the table!
Required:
5+ years of professional experience in a Tableau dashboard development
Experience with Tableau desktop version 2019.2 or above
1+ years experience with Xactly Incent and Analytics; Admin-level experience a plus (or other incentive compensation platforms?)
Experience in data retrieval, data manipulation, data analysis and audience-tailored presentation using data visualizations.
Sophisticated SQL and ETL skills and experience with Salesforce. Sophisticated experience with reporting and data mining methodologies. Redshift or other data warehousing tools is a plus!
Proficiency in MS Excel with knowledge of Pivot Tables, vLookup and other sophisticated functions
Skills for driving interview/discovery process with functional SMEs to understand true objectives and turn high-level business requirements into problem statements to shape and inform the technical solution
Prior experience carrying out technical responsibilities, such as rule writing, development, results analysis, troubleshooting, process improvement, validation
Desired:
Experience with Redshift (and/or other data warehouse tools), Google docs suite
Location
This role is fully remote and may sit anywhere in the United States.
Minimal travel (less than 5%) is anticipated.
What We Offer
There are many benefits to working at Twilio, including, in addition to competitive pay, things like generous time-off, ample parental and wellness leave, healthcare, a retirement savings program, and much more. Offerings vary by location.
Twilio thinks big. Do you?
We like to solve problems, take initiative, pitch in when needed, and are always up for trying new things. That's why we seek out colleagues who embody our values something we call Twilio Magic. Additionally, we empower employees to build positive change in their communities by supporting their volunteering and donation efforts.
So, if you're ready to unleash your full potential, do your best work, and be the best version of yourself, apply now!
If this role isn't what you're looking for, please consider other open positions.
Colorado applicants:
The estimated pay range for this role, based in Colorado, is 65,576.00 - 93,680.00
Additionally, this role is eligible to participate in Twilio's equity plan.
The successful candidate's starting salary will be determined based on permissible, non-discriminatory factors such as skills, experience, and geographic location within the state. This role is also eligible to participate in Twilio's equity plan and for the following benefits: health care insurance, 401(k) retirement account, paid sick time, paid personal time off, paid parental leave.
Misc Info For This Position:
Remote Mix: 100% Remote
Position Level: Senior
Job Type: Full-Time
Regional Restrictions: USA Only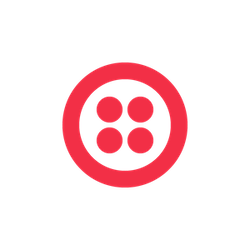 Twilio

United States

Website
Job Info:
100% Remote
Senior
Full-Time
USA