Solutions Architect (Pre-Sales, North America)
Posted May 20
Aiven is a well-funded, fast-growing DBaaS company. With a recent valuation of 2B, we have become one of the tech world's most recent unicorns. We offer the best of open-source databases, on multiple cloud platforms, with all-in pricing.
We love to operate our favorite tools at scale and empower our customers to do great work. Aiven is a very technical company with open source at our core. We publish open-source projects and actively support (with payment) our employees who want to participate in open-source projects beyond their daily work.
Aiven in a nutshell:

We are open-source and cloud experts
Our platform delivers bullet-proof data ops
Global service footprint & support organization
Security in our DNA
500+ customers in 50+ countries
50M in VC funding

We are looking for a consulting-oriented Pre-Sales Solutions Architect to help customers utilize Aiven's managed open source services. An ideal candidate will be passionate about open-source technology and genuinely want to help customers in a pre-sales (and perhaps post-sales) capacity.

Suitable candidates must have demonstrable experience in the following areas that will be required in their day-to-day job: Apache Kafka, Apache Cassandra, PostgreSQL, MySQL, Elasticsearch, Redis, InfluxDB and Grafana.

Any migration experience from Oracle to PostgreSQL will be considered an asset!

Requirements
General requirements
Helping customers succeed, building successful relationships from pre-sales stage to roll out and beyond
Conduct successful proof of concepts and solve the customers' problems in getting up and running
Be an active contributor during the sales process
Be an ambassador for Aiven
Travel up to 25% of the time (post-Covid)
Consulting skills
Understand customers' technical requirements on an architectural level and propose solutions using Aiven's services
Communicate complex technical concepts in an approachable way and at a correct technical level for the audience
Ability to implement proof of concept software solutions as needed, to interface with Aiven services in order to address business requirements
Ability to form deep technical relationships with customers' technical staff
Technical skills
Fluency in one or more programming languages such as Java, Python, Go or Ruby
Knowledgeable of public clouds (AWS, Google or Azure) and in the areas of compute, storage - block and object, networking, and security groups
Linux operating system, demonstrable experience using various Linux utilities and tools (installation, securing system, storage, etc.) and a good grasp of networking basics like DNS
A fairly deep conceptual understanding of Kafka and at least one of Cassandra or Elasticsearch.
Demonstrable use of a relational databases preferably PostgreSQL and/or MySQL (migration experience from Oracle to PostgreSQL is an asset)
Act as a subject matter expert on Aiven service offerings
Required qualifications:
A Bachelor's degree in Computer Science (or similar discipline) or, an equivalent amount of professional experience in software engineering
The following are nice to have:
Writing technical blogs and conducting webinars
Experience working in technology/software sales, pre-sales or consulting
Giving talks at conferences and meetups
Customer relationship management
Ability to work on Pacific time
Benefits
We are proud of our organizational culture - we search for the most pragmatic solution in everything we do and cultivate a trusting, supportive environment that empowers everyone to strive for excellence. Besides our people and culture, we offer you:
An agile working environment with short decision paths
Compensation for your open-source contributions in your free time
Remote work
Choose the devices and tools that you need to do your best work!
Mobile phone and subscription
Participation in employee stock option plan
You will be part of a highly-skilled, tight-knit and diverse team, making your contribution essential to what is becoming a truly unique success story. If you're interested, send us your application.
Aiven provides equal employment opportunities to all employees and applicants for employment without regard to age, gender identity, national or ethnic origin, religion, sexual orientation, physical and mental ability, marital and family status or without regard to any other similar personal attributes.
Aiven complies with applicable local laws governing non-discrimination in employment in every location in which the company operates. This policy applies to all terms and conditions of employment, including recruiting, hiring, placement, promotion, termination, layoff, transfer, leaves of absence, compensation, training and any other terms and conditions related to employment.
Misc Info For This Position:
Remote Mix: 100% Remote
Job Type: Full-Time
Regional Restrictions: North America Only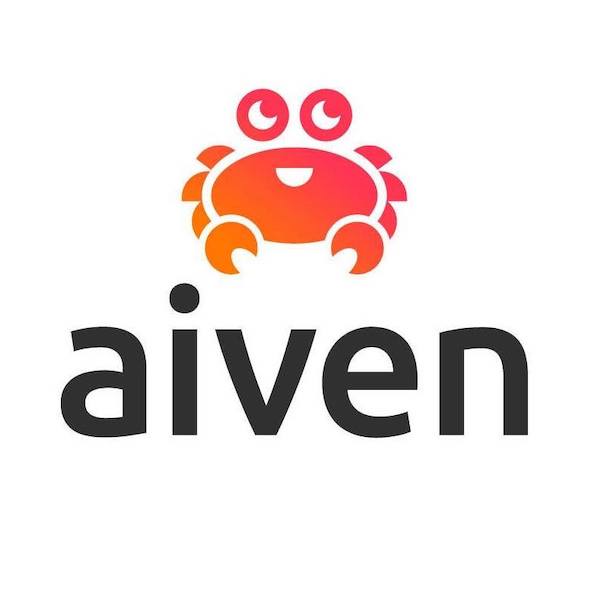 Aiven

Finland

Website
Job Info:
100% Remote
Full-Time
North America