Solutions Architect (Post-Sales, North America)
Posted May 20
Headquartered in Helsinki with offices in Berlin, Sydney and Toronto, Aiven provides managed open-source data technologies, such as PostgreSQL, Kafka and M3, on all major clouds. We have raised 150M in VC funding to date and are backed by world-class investors including Atomico, IVP and Earlybird Venture Capital, among others. We plan to invest this funding back into open source.
Our roots are in open source. The services we provide are based on best-in-class open-source data technologies. We are establishing an Open-Source Program Office that will coordinate and increase our contributions to the open-source community.
Through Aiven, developers can do what they do best: create applications. Meanwhile, we do what we do best; manage cloud data infrastructure. We enable our customers to drive business results from open source resulting in true transformations far beyond their own backyards.
With offices in Helsinki, Berlin, Sydney and Boston, we have a virtual presence in Canada, the US, and several European countries.
Requirements
General requirements
Helping customers succeed, building successful relationships.
Be an active contributor during the post sales and sales process
Be an ambassador for Aiven
Travel up to 5% of the time (once it's safe)
Consulting skills
Understand customers' technical requirements on an architectural level and propose solutions to address them using Aiven's services
Ability to communicate complex technical concepts in an approachable and correct technical level for the audience
Ability to implement software solutions as needed in a post-sales capacity to interface with Aiven services in order to address business requirements
Ability to form deep technical relationships with customers' technical staff
Technical skills
Fluency in one or more programming languages such as Java, Python, Go or Ruby
Knowledgeable of public clouds (AWS, Google or Azure) and in the areas of compute, storage - block and object, networking, and security groups
Linux operating system, demonstrable experience using various Linux utilities and tools (installation, securing system, storage, etc.) and a good grasp of networking basics like DNS
A fairly deep conceptual understanding of Kafka and at least one of Cassandra or Elasticsearch.
Demonstrable use of a relational database, preferably PostgreSQL and/or MySQL
Act as a subject matter expert on Aiven's service offerings
Required qualifications:
A Bachelor's degree in Computer Science (or similar discipline) or, an equivalent amount of professional experience in software engineering
The following are nice to have:
Writing technical blogs and conducting webinars
Experience working in technology/software sales, post-sales or consulting
Giving talks at conferences and meetups
Customer relationship management
Benefits
You will be part of a highly-skilled, tight-knit and diverse team, making your contribution essential to what is becoming a truly unique success story. If you're interested, send us your application.

A dynamic startup environment with a unique culture being headquartered in Helsinki, Finland, and a rapidly growing, international business
A technical team of very experienced experts in their field of Backend/Frontend Development, Support Engineering, Product Management
Participation in our employee stock option plan
High degree of autonomy
Working with international, highly engaged colleagues
Flat hierarchy and open communication
Get things done attitude
Attractive health insurance plans (medical, dental, vision) through BlueCross BlueShield
Misc Info For This Position:
Remote Mix: 100% Remote
Job Type: Full-Time
Regional Restrictions: North America Only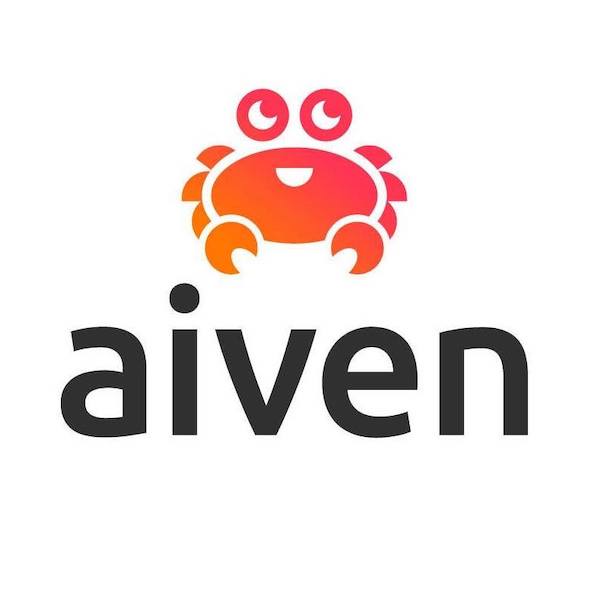 Aiven

Finland

Website
Job Info:
100% Remote
Full-Time
North America