Software Engineer L4 - Messaging Compliance Runtime
Posted May 10
Twilio is growing rapidly and Programmable Messaging is its biggest product. To keep pace with the evolving messaging ecosystem, we need strong engineers that can build innovative solutions as a part of our Messaging Compliance team.
Who?
Twilio is looking for a Staff Software Engineer who has a track record of crafting and operating highly scalable, stable and secure web services. The following are some of the core qualifications for a candidate to be successful in this position:
5+ years of Engineering experience, developing and maintaining high traffic services.
Strong fundamental knowledge of software development and best practices, especially with respect to web service implementation.
Experience with the ins and outs of external systems integration, with defensive and hardened approaches to mitigate downstream issues.
Technical leader and a mentor to junior members of the team.
Some background of JVM languages (Scala, and Java experience is great). Python and Go familiarity is helpful
RDBMS design and best practices (we use MySQL, but anything related is perfectly ok). Familiarity with key/value stores is also helpful.
Familiarity with DynamoDB is a plus, but not required.
An unwillingness to settle for good enough, instead staying focused on longevity through well-tested code and continuous improvement.
Past experience working in a distributed-first team and collaborating with a variety of engineer and non-engineer roles.
What?
As a staff engineer in our messaging compliance organization, you will live Twilio values by:
BE AN OWNER & BE BOLD: Own multiple services powering Twilio's messaging US compliance runtime services and expanding to other countries, to ensure customers send messages in compliance when trying to reach their customers.
DRAW THE OWL: Design and develop elegant and scalable solutions across a wide variety of contexts, fronted with a highly available and responsive API guaranteeing 99.999% SLA.
EMPOWER OTHERS: Interact extensively across all other engineering teams within Twilio and more specifically within other messaging teams to align on engineering architecture decisions.
Why?
Twilio is truly unique; we are a company committed to your growth, your learning, your development and your entire employee experience. We only win when our employees succeed, and we're dedicated to helping you develop your strengths. We invest in weeks dedicated to tackling hard problems and creating your own ideas. We have a cultural foundation built on diversity, inclusion and innovation, and we want you and your ideas to thrive at Twilio. You belong here.
Where?
The Messaging Compliance team is located in San Francisco but this position is open to anyone in the US. You're also welcome to work out of any Twilio office if you would prefer a local setting. What you will also get to experience is a company that believes in small teams for maximum impact; seeks well-rounded talent to ensure a full perspective on our customers' experience, understands that this is a marathon, not a sprint; that continuously and purposefully builds an inclusive culture where everyone is able to do and be the best version of themselves.
About us:
Millions of developers around the world have used Twilio to unlock the magic of communications to improve any human experience. Twilio has democratized communications channels like voice, text, chat, video and email by virtualizing the world's communications infrastructure through APIs that are simple enough for any developer to use, yet robust enough to power the world's most demanding applications. By making communications a part of every software developer's toolkit, Twilio is enabling innovators across every industry from emerging leaders to the world's largest organizations to reinvent how companies engage with their customers.
Twilio is proud to be an equal opportunity workplace and is an affirmative action employer. We are committed to equal opportunity regardless of race, color, ancestry, religion, gender, gender identity, parental or pregnancy status, national origin, sexual orientation, age, citizenship, marital status, disability, or Veteran status and operate in compliance with the San Francisco Fair Chance Ordinance.
Misc Info For This Position:
Remote Mix: 100% Remote
Job Type: Full-Time
Regional Restrictions: USA Only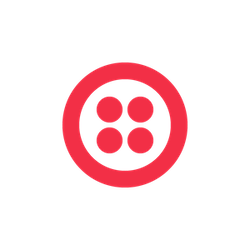 Twilio

United States

Website
Job Info:
100% Remote
Full-Time
USA