Software Engineer (L3) - Continuous Delivery
Posted Aug 4
This position is needed to enable engineering teams to deliver software and infrastructure changes from their laptops to production environments in a safe, reliable, and compliant manner. As a member of the Continuous Delivery team, you will get the opportunity to work across a breadth of languages, technologies, and teams to deliver value to our customers i.e. engineers on product teams at Twilio. You will get to work alongside 3-4 other engineers based all around the US and operate in a remote-first and meeting-light work environment.
Responsibilities
In this role, you'll:
Build the next generation Kubernetes compute platform to power the future of Twilio's products
Enable teams to provision AWS infrastructure by maturing our Terraform Cloud implementation
Maintain our existing AWS EC2 VM-based deployment infrastructure that supports most of Twilio
Write clean and maintainable code and documentation for both internal and external consumption
Instrument all our services with logging, metrics, and testing to enable us to iterate with confidence
Serve on a weekly on-call rotation to support incident response, pager stability, and customer support
Qualifications
Not all applicants will have skills that match a job description exactly. Twilio values diverse experiences in other industries, and we encourage everyone who meets the required qualifications to apply. While having desired qualifications make for a strong candidate, we encourage applicants with alternative experiences to also apply. If your career is just starting or hasn't followed a traditional path, don't let that stop you from considering Twilio. We are always looking for people who will bring something new to the table!
Required:
Ability to develop, test, and debug code and distributed systems both independently and collaboratively
Ability to collaborate with engineers from a diverse set of backgrounds with varied levels of experience
Experience working in a cloud-based environment performing enterprise-level software development
Experience writing code in one or more of the following languages: Go, Python, Java, and/or Bash
Ability to break down technical problems and communicate your ideas both verbally and in writing
Ability to work non-standard, on-call rotation weekend and holiday hours with the rest of the team
Desired:
Specific domain experience with Kubernetes, Argo CD, Buildkite, AWS, and/or Terraform Cloud
3+ years of professional full-time experience in a software engineering (or equivalent) position
Location
This role can be based anywhere in the US, from either a home office or one of our several Twilio offices.
What We Offer
There are many benefits to working at Twilio, including, in addition to competitive pay, things like generous time-off, ample parental and wellness leave, healthcare, a retirement savings program, and much more. Offerings vary by location.
Twilio thinks big. Do you?
We like to solve problems, take initiative, pitch in when needed, and are always up for trying new things. That's why we seek out colleagues who embody our values.
So, if you're ready to unleash your full potential, do your best work, and be the best version of yourself, apply now!
Misc Info For This Position:
Remote Mix: 100% Remote
Job Type: Full-Time
Regional Restrictions: USA Only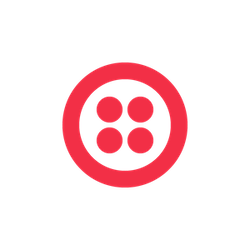 Twilio

United States

Website
Job Info:
100% Remote
Full-Time
USA