Software Architect - Data Platform
Posted Aug 4
Twilio is looking for a talented and experienced Architect for Twilio Data Platform. You would manage and scale the data architecture for schema and data modeling at the heart of Twilio's Data Platform. Additionally, you would provide the system design and oversight to ensure our services can continue to scale up by multiple orders of magnitude. Data Platform owns, builds, and operates the brokerage, processing, storage and insights services that power Twilio Communications products in over 100 countries for Voice, Video, Messaging and our new Flex Call Center Product.
Responsibilities
In this role:
You are an expert in schema design and data architecture, distributed processing and event driven services architecture
You have a track record of designing and implementing schema and data architecture that scales to Petabyte levels with real-time latency for specific use cases (<50ms).
You have deep expertise in Data Brokerage, Long Term Storage and Data Processing systems. This includes Avro, S3 (or HDFS), Spark,Kafka, Spark Streaming, Flink, Pulsar or Kafka alternatives, Elasticsearch, event driven architecture, micro-services etc.
You are an expert and hands-on understanding of fault-tolerant systems and multi-datacenter / cloud architectures.
You are passionate about engineering hygiene and operational excellence. You have the know-how to build an engineering organization that delivers it.
You are a strategic thinker as it relates to scale and removing humans from the loop. You thrive when operating in broad scope, from conception through continuous operation of 24x7 services to defined SLA's.
You distill complex and ambiguous situations into actionable plans. You can lead both engineering and management.
Bachelors/Masters degree or equivalent experience required, 10+ years of experience.
Qualifications
Not all applicants will have skills that match a job description exactly. Twilio values diverse experiences in other industries, and we encourage everyone who meets the required qualifications to apply. While having desired qualifications make for a strong candidate, we encourage applicants with alternative experiences to also apply. If your career is just starting or hasn't followed a traditional path, don't let that stop you from considering Twilio. We are always looking for people who will bring something new to the table!
Required:
Lead Twilio's schema design and architecture for Data Platform
Provide guidance and direction to the Data Platform organization as well as data producers leveraging the data platform on how to design and model their schema, services, streaming systems.
Lead our architecture design for building, deploying our systems at Petabyte scale with Trillions of events/week.
Continuously reduce human involvement in schema management and updates. Reduce the amount of time for schema updates and changes to be deployed while also reducing customer impact.
Collaborate on roadmaps with Product Managers, other Architects, and Tech Leads to ensure the team has clear direction and priorities
Act as an ambassador for Twilio, recruiting and motivating top talent
Location
This role will be based in our San Francisco, CA office.
Approximately 10% travel is anticipated.
What We Offer
There are many benefits to working at Twilio, including, in addition to competitive pay, things like generous time-off, ample parental and wellness leave, healthcare, a retirement savings program, and much more. Offerings vary by location.
Twilio thinks big. Do you?
We like to solve problems, take initiative, pitch in when needed, and are always up for trying new things. That's why we seek out colleagues who embody our values.
So, if you're ready to unleash your full potential, do your best work, and be the best version of yourself, apply now!
Colorado applicants:
The estimated pay range for this role, based in Colorado, is 213,120 - 266,400.
Additionally, this role is eligible to participate in Twilio's equity plan.
The successful candidate's starting salary will be determined based on permissible, non-discriminatory factors such as skills, experience, and geographic location within the state. This role is also eligible to participate in Twilio's equity plan and for the following benefits: health care insurance, 401(k) retirement account, paid sick time, paid personal time off, paid parental leave.
Misc Info For This Position:
Remote Mix: 100% Remote
Job Type: Full-Time
Regional Restrictions: USA Only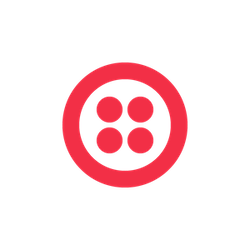 Twilio

United States

Website
Job Info:
100% Remote
Full-Time
USA