Senior Revenue Operations Analyst
Posted Dec 2
We are hiring a Senior Revenue Operations Analyst to join our rapidly growing team. In this role at Stack Overflow, you'll work in tandem with multiple internal stakeholders to renew and grow business in our existing client base. Your focus will be on increasing our operational scale and revenue predictability. You want to be with a collaborative team where your experiences, effort, and ideas will matter. You're relaxed yet professional, eloquent yet casual, and pleasant yet persuasive. Most importantly, you want to believe in the product you're selling and take a personal interest in the growth of the organization.
What you'll do:
Strong awareness of the customer journey and how Customer Success Managers and Implementation managers serve to strategically advise customers toward agreed-upon goals.
Analyze data from various sources (SFDC, Amplitude, Looker) to build and improve leading indicators across multiple customer segments and journey stages.
Own data management post-sale, including Customer Success owned platforms (SFDC, Cataylst, Gong) and supporting cross-function work on other platforms (Clari, Concert)
Detect signs of early risk within our customer base, and work with multiple stakeholders to build a programmatic approach to reduce churn and flat renewals.
Assist in customer success governance, partnering with teams that work on Salesforce and within Finance to prevent issues from occurring.
Partner cross-functionally with RevOps, CSMs, Implementation Managers, Product, Support, Engineering, and Marketing teams to continuously improve the predictability and understanding of our business.
Ability to craft internal assets, project plans, and presentations that effectively communicate your goals and opportunities for Stack Overflow for Teams to grow.
US East Coast / EST Time Zone preferred
What you'll need to have:
5+ years of Revenue Operation, Sales Operations, Customer Success Ops and/or BusOps experience at a fast-growing B2B SaaS company
Experience partnering with Customer Success in building and rolling out processes and managing platforms is required.
Strong analytics, operational, and project management foundation. Enjoys digging into complex operations.
Ability to break down ambiguous problems into concrete, manageable components and think through optimal solutions.
Ability to build strong trusting relationships with Customer Success team and the larger revenue organization (AEs, Managing Directors, etc.).
Proactive, curious-minded, and organized team player with innovative ideas to inspire customer engagement, loyalty, and adoption
Strong interpersonal skills and experience building strong internal and external relationships
Ability to prioritize and multitask while maintaining diplomacy, tact, and poise under pressure when working through customer issues
Subject matter expertise in modern tools: SFDC, Catalyst, Gong, Salesforce, Clari, Looker, Amplitude, Data Studio, etc.
Nice to Have
Experience with a professional community management platform for a large technologically-focused user base
Experience working in a full-remote, globally distributed organization
Base salary will range from:
75K - 105K USD
What You'll Get in Return:
Competitive Base Salary
Generous paid vacation
Generous parental leave (16 weeks at 100% pay), family care leave, and unlimited sick days
Equity (RSUs) for all employees at all levels
Industry-leading health benefits that are applicable per country of residence for all our full-time employees
Company-paid Life Insurance
Health & wellness stipend
Home Internet stipend
Professional allocation for your growth and development
Home office allowance of 2,000 (for remote employees) with an additional 450 allowance on each anniversary date
Company-paid access to Calm, Bravely, LinkedIn Learning, MyAcademy and Overdrive
Stack Overflow is proud to be an equal opportunity workplace. We value diversity, inclusion, equity and belonging and these pillars are at the heart of how we work together here at Stack. All qualified applicants will receive consideration for employment without regard to race, color, religion, sex, sexual orientation, gender identity, national origin, or any other applicable legally protected characteristics in the location in which the candidate is applying.
For individuals based in California, and other locations where required, we will consider employment qualified applicants with arrest and conviction records.
Misc Info For This Position:
Remote Mix: 100% Remote
Job Type: Full-Time
Regional Restrictions: USA Only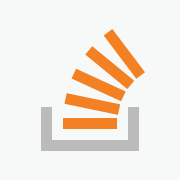 Stack Overflow

New York,NY
United States

Website
Job Info:
100% Remote
Full-Time
USA