Senior Director, Product Management - Developer Experience
Posted May 10
Join the team as our next Sr. Director, Product Management, Developer Experience
Who we are & why we're hiring
Twilio powers real-time business communications and data solutions that help companies and developers worldwide build better applications and customer experiences.
Although we're headquartered in San Francisco, we're on a journey to becoming a globally antiracist company that supports diversity, equity & inclusion wherever we do business. We employ thousands of Twilions worldwide, and we're looking for more builders, creators, and visionaries to help fuel our growth momentum.
About the job
This position is needed to lead the product strategy, roadmap and product management team for Twilio's Developer Experience Group
Twilio got off the ground by demonstrating how obscure technologies at the time like SMS messaging and telephone calls could be elegantly unlocked for a generation of developers by shifting from obscure carrier interfaces to REST APIs. Since then, our developer experience group has played a critical role in defining and building the next smooth developer experience to engage with customers through the Twilio platform.
This is a unique opportunity to join as the product leader of the Developer Experience group partnering with the Engineering leader to lead this vital function for Twilio and our customers.
Responsibilities
In this role, you'll:
Define the product vision and strategy for Twilio's Developer Experience, including the Console web interface, CLI, rapid code deployment and developer libraries.
Drive a continuous discover/build/ship/learn cycle for the Developer Experience (DX) R&D team with a clear short and long term roadmap that delivers on the vision and continuously unlocks value for stakeholders.
Be a model in customer orientation. Build trust with all stakeholders through empathic engagement, clear convictions, and high-integrity commitments. Stakeholders include both the world of developers using Twilio as well as all of Twilio's product teams relying on the Developer Experience group to provide a world class developer experience for their products.
Build and develop a high performing PM team that wears the customers' shoes and develop every individual to be a world-class product manager
Partner with engineering to build a culture of empowered product teams where all roles excel together and deliver as a single team
Qualifications
Not all applicants will have skills that match a job description exactly. Twilio values diverse experiences in other industries, and we encourage everyone who meets the required qualifications to apply. While having desired qualifications make for a strong candidate, we encourage applicants with alternative experiences to also apply. If your career is just starting or hasn't followed a traditional path, don't let that stop you from considering Twilio. We are always looking for people who will bring something new to the table!
Required:
12+ years of product management experience building large scale cloud services platforms
8+ years people management experience
Demonstrated leadership - ability to inspire/lead/recruit/retain successful product management teams
Proven track record of results - establishes ambitious goals, achieves/over-achieves those goals and takes overall responsibility for overall business outcomes
Innovation and critical thinking - track record of driving companies through transformative change with the ability to see the big-picture while also being hands-on in the details
Gravitas - Executive presence, strong communication skills, ability to communicate business value as well as product features/benefits
Data-driven - outcomes oriented and a problem solver
Customer obsessed - passionate about the customer journey and the customer experience both externally, for Twilio's developer community and internally, for Twilio's own product engineering teams who rely on the Developer Experience Platform.
Experience building large scale, mission critical software services like a Billing system or similar
Bachelor's degree from an accredited university, or equivalent experience
Desired:
Experience building cloud native developer experiences, e.g. programming language libraries, developer consoles, cloud APIs and the like at large scale
Experience with delivering platform services for B2B cloud software products
Location
This role can be remote, and based in USA or it can be based in one of our offices throughout the US.
Approximately 10% travel is anticipated.
What We Offer
There are many benefits to working at Twilio, including, in addition to competitive pay, things like generous time-off, ample parental and wellness leave, healthcare, a retirement savings program, and much more. Offerings vary by location.
Twilio thinks big. Do you?
We like to solve problems, take initiative, pitch in when needed, and are always up for trying new things. That's why we seek out colleagues who embody our values something we call Twilio Magic. Additionally, we empower employees to build positive change in their communities by supporting their volunteering and donation efforts
So, if you're ready to unleash your full potential, do your best work, and be the best version of yourself, apply now!
If this role isn't what you're looking for, please consider other open positions.
(Location dependent information)
Please note this role is open to candidates outside of Colorado as well. The information below is provided for those hired in Colorado only.
If you are a Colorado applicant:
The estimated pay range for this role, based in Colorado, is 213,120 - 266,400.
Additionally, this role is eligible to participate in Twilio's equity plan.
The successful candidate's starting salary will be determined based on permissible, non-discriminatory factors such as skills, experience, and geographic location within the state. This role is also eligible to participate in Twilio's equity plan and for the following benefits: health care insurance, 401(k) retirement account, paid sick time, paid personal time off, paid parental leave.
Misc Info For This Position:
Remote Mix: 100% Remote
Position Level: Director
Job Type: Full-Time
Regional Restrictions: USA Only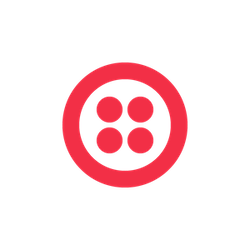 Twilio

United States

Website
Job Info:
100% Remote
Director
Full-Time
USA