SEC Reporting and Technical Accounting Manager
Posted Jan 13
Twilio is growing rapidly and seeking a SEC Reporting and Technical Accounting Manager to be a key leader in the Companys SEC filings and earnings processes, as well as lead or assist in technical accounting projects, such as share-based compensation and M&A transactions. Reporting to a Director of Technical Accounting, this position will work cross-functionally with the broader Finance organizations and other internal groups such as Investor Relations, Legal, Equity Operations, Business Development, Sales and Human Resources, as well as collaborate with outside technical advisors and auditors. This role will also be responsible for compliance with Sarbanes-Oxley requirements for internal controls in its respective areas of responsibility.
Who
Twilio is looking for a person who lives the Twilio Magic and has a demonstrated track record of delivering excellent results in a fast-growing company. They also have:
Bachelors degree in Accounting and active CPA license, 5+ years of work experience, including Big 4 public accounting and technology (software) industry.
Experience with ownership of end-to-end SEC reporting and earnings cycle, including disclosure and certification processes, project management of deliverables and preparation of financial statements and disclosures. WDesk (Workiva) proficiency is preferred.
Strong technical accounting background, with experience in stock-based compensation (ASC 718), business combinations (ASC 805) and derivatives and hedging (ASC 815).
Prior experience designing, implementing, documenting and performing Sarbanes-Oxley processes and controls.
Excellent analytical, verbal and written communication and presentation skills, with meticulous and superior attention to detail.
Ability to effectively operate in a fast-paced environment, prioritize, multi-task, deliver high quality results within established timeframes and go above and beyond.
What
As a SEC Reporting and Technical Accounting Manager you will live the Twilio Magic values:
WRITE IT DOWN: Draft footnotes and disclosures in SEC filing documents, document technical accounting research results and perform share-based compensation SOX controls.
DRAW THE OWL: Apply critical thinking and problem-solving skills to break down technical issues, research and identify applicable accounting guidance, propose solutions and introduce process improvements.
BE AN OWNER & BE BOLD: Lead or assist in all aspects of SEC Reporting and earnings process including project management of reporting calendar, footnote support, draft preparation, disclosure and certifications processes, resolution of review comments from partners and filing.
EMPOWER OTHERS: Interact with cross-functional teams within Twilio and treat the cross-functional partners as customers.
NO SHENANIGANS: Consistently exercise appropriate judgment in analyzing disclosures, accounting issues and in selecting appropriate guidance.
Why
The SEC Reporting and Technical Accounting team is central to Twilio's continued growth. We are responsible for the SEC reporting compliance of the company. We also advise leadership in selection, application and implementation of accounting guidance. We participate in leading, evaluating, analyzing and managing various aspects of significant transactions and have a significant impact on the overall direction of the company.
Twilio is a company that is empowering the worlds developers with modern communication in order to build better applications. Twilio is truly unique; we are a company committed to your growth, your learning, your development, and your entire employee experience. We only win when our employees succeed, and we're dedicated to helping you develop your strengths. We have a cultural foundation built on diversity, inclusion, and innovation, and we want you and your ideas to thrive at Twilio.
Where
We employ diverse talent from all over the world, and we believe great work can be done anywhere. Around the world, Twilio offers benefits and perks to support the physical, financial, and emotional well being of you and your loved ones. No matter where you are based, you will experience a company that believes in small teams for maximum impact; seeks well-rounded talent to ensure a full perspective on our customers experience, understands that this is a marathon, not a sprint; that continuously and purposefully builds an inclusive culture that empowers everyone to do their best work and be the best version of themselves.
Misc Info For This Position:
Remote Mix: 100% Remote
Job Type: Full-Time
Regional Restrictions: USA Only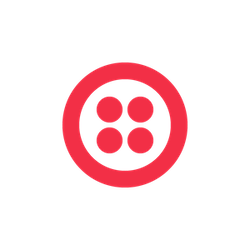 Twilio

United States

Website
Job Info:
100% Remote
Full-Time
USA