Product Designer (Growth)
Posted May 10
Join the team as our next Product Designer for the Growth team.
Who we are & why we're hiring
Twilio powers real-time business communications and data solutions that help companies and developers worldwide build better applications and customer experiences.
Although we're headquartered in San Francisco, we're on a journey to becoming a globally antiracist company that supports diversity, equity & inclusion wherever we do business. We employ thousands of Twilions worldwide, and we're looking for more builders, creators, and visionaries to help fuel our growth momentum.
About the job
In this role, you'll design continuous onboarding experiences that are so seamless, users can trust and leverage them throughout their entire customer lifecycle. You will help remove the restrictions that slow down our users from quickly building with Twilio and your will forge the foundation for other teams to build magical onboarding experiences for the next decade of builders.
The ideal candidate will be an advocate for our customer-informed process, a champion and active contributor to our inclusive-by-default Design System, a partner to our UX team members in upholding our principles and standards, and a UX leader who takes a holistic, human-centered approach to design.
Responsibilities
In this role, you'll:
Be an Owner: Advance the user experience for console experiences including the Twilio Console experience and internal systems. Follow through on commitments, speak up when you see a problem, and offer to help when a team goal is at risk.
Wear the Customer's Shoes: Engage with our internal and external customers to understand their needs, and design products and workflows to unlock their potential.
Write it Down: Define, design, review, test and specify interfaces, components, systems, frameworks and tools for developer and customer experiences. Articulate the customer problem and success metrics, and gain alignment with stakeholders on your approach to testing, learning, and iterating on a solution.
Draw the Owl: Navigate ambiguity through a scientific mindset - stating hypotheses, testing, learning and adapting.
Don't Settle: Collaborate with other Product Designers in elevating our standards. Participate in design critiques to ensure consistency across Twilio products. Advocate for more efficient processes and higher standards across the UX organization.
No Shenanigans & Be Inclusive: Have strong opinions, weakly held. Remain open, transparent, and inclusive while sharing work at various stages of the process, proactively inviting diverse (and potentially contrary) inputs in your design process, and remaining humble while asking for and providing useful and constructive feedback to peers of all levels.
Ruthlessly Prioritize: Partner with Tech Leads and Product Managers to align on scope. Break down complex problems into manageable parts, and articulate the impact of each part.
Qualifications
Not all applicants will have skills that match a job description exactly. Twilio values diverse experiences in other industries, and we encourage everyone who meets the required qualifications to apply. While having desired qualifications make for a strong candidate, we encourage applicants with alternative experiences to also apply. If your career is just starting or hasn't followed a traditional path, don't let that stop you from considering Twilio. We are always looking for people who will bring something new to the table!
Required:
Has a proven user-centered design workflow that comprises: design, prototyping, presentation, sharing and soliciting feedback, influencing key decision-makers, and collaborative handoffs with developers.
Ships high-quality user interfaces and flows in a systematic, detail-oriented way. Ensures the coded implementations are consistent with designs.
Can share a portfolio with clean, usable, straightforward, and lovable designs that demonstrates technical product thinking, an understanding of user-centered design methodologies, and a solid understanding of visual design, typography, color, and hierarchy.
Has a demonstrated advocacy for design and research methodologies, and has experience running quantitative and qualitative research, such as usability testing, analysis, and interviews.
Holds a passion for feedback and the ability to provide useful and constructive feedback to peers of all levels, as well as invite and receive it.
Experience designing and evolving web-based services and/or application software in a fast-paced environment.
Collaborates frequently with Design, Engineering, Brand, Marketing, and Product to ensure a cohesive design language across the entire customer experience.
Creates clear, concise documentation to align expectations, goals, and guidelines among cross-functional teams.
Desired:
Bachelor's or Master's in the field of Human Computer Interaction is a nice to have.
4-6 years of industry experience and a related degree or equivalent experience in software interface design and/or development.
Misc Info For This Position:
Remote Mix: 100% Remote
Job Type: Full-Time
Regional Restrictions: USA Only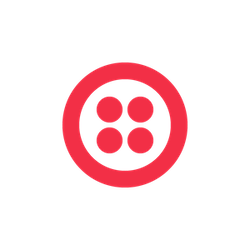 Twilio

United States

Website
Job Info:
100% Remote
Full-Time
USA