Manager, Contact Center Solutions Engineering - Verticals
Posted Aug 4
We're looking for a front-line Pre-Sales Solutions Engineering leader to help grow and craft our growing Flex Contact Center Solutions Engineering Specialist Organization supporting our Financial Services, HLS, Public Sector, Retail and ISV verticals. This is a rare opportunity to lead a team of Specialist Solutions Engineers focused on Contact Center in NAMER, get involved with some of Twilio's most strategic opportunities and be instrumental in securing technical wins.
Contact Center Specialist Solutions Engineers are experts in both the Twilio Flex platform and the contact center industry. The NAMER Contact Center Solutions Engineering Leader will innovate and build out processes to make our highly specialized team more strategic, efficient and effective. In addition, you will align and interlock with product teams to ensure our SE team members become and remain experts in their craft and partner with regional Solutions Engineering and Sales leaders to consistently exceed sales targets. Based on level of experience, we will hire up to a Senior Manager.
Responsibilities
In this role, you'll:
Mentor, enable and empower a team of experienced Contact Center Solution Engineers to deliver against assigned goals
Partner with your Flex Sales Leadership counterpart to establish sales strategy, drive the overall team to a common goal and ensure cohesion across the organization.
Partner with Talent Acquisition to attract, hire and retain top SE talent to support our rapid growth
Lead individual and team performance, ensuring that we are taking the vital actions to maintain high levels of performance
Strengthen the team by setting shared goals, information sharing, and establishing mentoring relationships
Ramp-up newer members of the team on rules of engagement, building a relationship with their sales colleagues, technical training, and empowering them to become self-sufficient
Engage with customer decision makers to help build executive relationships that lead to revenue opportunities.
Qualifications
Not all applicants will have skills that match a job description exactly. Twilio values diverse experiences in other industries, and we encourage everyone who meets the required qualifications to apply. While having desired qualifications make for a strong candidate, we encourage applicants with alternative experiences to also apply. We are always looking for people who will bring something new to the table!
Required:
Strong team leadership ability as a direct manager of teams in a customer-facing, pre-sales technical role within the Contact Center industry (at least 4 years)
5+ years in a customer-facing technical role within the Contact Center space.
Experience mentoring and coaching Solution Engineers.
Experience with strategic planning and setting strategy for Technical Sales teams and advising non-Technical Sales teams.
Experience building programs that have impact and reach across teams.
Hands-on approach to problem solving and driving the business. Always ready to work opportunities directly alongside your team when needed.
A result driven individual who thrives in a dynamic environment with excellence in cross-functional work and influence.
Excellent communicator and presenter able to gain audience confidence
Experience communicating with executive decision makers
A strong understanding of the new business sales cycle, as well as experience in the technology areas relevant to Twilio's market: contact center, IP-based telephony, messaging, real-time communications, scaling web and mobile applications.
Desired:
Experience leveraging storytelling to help paint a technical vision for the customer.
Ability to understand, read, and modify existing code in several of the following languages (Java, C#, Node.js, Python, PHP, etc).
Experience with web development (JavaScript, HTML/CSS, frontend frameworks - React, Vue.js, Angular)
Experience with Twilio Flex and/or other Twilio platforms/API's
Experience with industry competitors products and platforms
Location
This role will be remote, and optimally based on the East or West coast, USA.
Approximately 20% travel is anticipated.
What We Offer
There are many benefits to working at Twilio, including, in addition to competitive pay, things like generous time-off, ample parental and wellness leave, healthcare, a retirement savings program, and much more. Offerings vary by location.
Twilio thinks big. Do you?
We like to solve problems, take initiative, pitch in when needed, and are always up for trying new things. That's why we seek out colleagues who embody our values.
So, if you're ready to unleash your full potential, do your best work, and be the best version of yourself, apply now!
Colorado applicants:
The estimated pay range for this role, based in Colorado, is 167,000 - 208,800
Additionally, this role is eligible to earn commissions and eligible to participate in Twilio's equity plan.
The successful candidate's starting salary will be determined based on permissible, non-discriminatory factors such as skills, experience, and geographic location within the state. This role is also eligible to participate in Twilio's equity plan and for the following benefits: health care insurance, 401(k) retirement account, paid sick time, paid personal time off, paid parental leave.
Misc Info For This Position:
Remote Mix: 100% Remote
Position Level: Manager
Job Type: Full-Time
Regional Restrictions: USA Only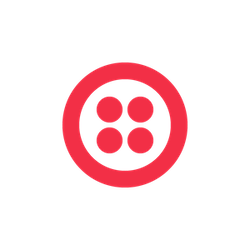 Twilio

United States

Website
Job Info:
100% Remote
Manager
Full-Time
USA