IT Technical Project Manager
Posted May 10
Twilio is growing rapidly and seeking a Information Technology (IT) Technical Project Manager to guide IT department initiatives in order to help Twilio grow. You will be working alongside IT and cross-functional partners to manage the execution of key IT technology initiatives, M&A integration projects, as well as operational projects to support the global initiatives. This individual will provide coordination & support to ensure the IT aspects of technology projects are completed, on-time and within budget. Reporting to the Manager of the Technical Services Project Management Office (PMO), this position is critical in supporting Twilio's global growth efforts.
Who?
Twilio is looking for a project management professional who lives the Twilio Magic and also has a demonstrated track record of managing projects for fast-moving organizations. They also have:
4+ years of project management experience in an IT organization
Project Manager, Scrum Master, with Jira, Agile, Data and Analytics experience leading multiple projects in Data and Analytics area. Provide technical guidance for Reporting solutions. Facilitate in clearing technical roadblocks by understanding the flow of data. Guide the team on best practices in Reports development. Aware of Report performance tuning .
Proven knowledge of ITIL frameworks (eg. ITIL, Release, Incident, Problem, Change)
Strong project management experience in managing full-life cycle IT projects including managing resources and teams through business and technical requirements, process and system design, configuration, testing, training, following an Agile methodology and defining support procedures.
Executes the strategy/plan, anticipating problems and managing program risks and issues with escalation as appropriate.
Ensures Business, Functional and Technical Requirements are documented and maintained throughout the project lifecycle.
Lead and facilitate Post Engagement Reviews (Post Incident and Post Escalation Reviews) for high priority incidents and customer issues with a focus on process improvement, as well as, technical resolution.
Drive identification of lessons learned, using Problem Management techniques to identify root cause and prevent reoccurrence.
Experienced communicator and able to collaborate with diverse sets of technical, non-technical, on-site, and remote people across different teams and business functions
Bachelor's degree or similar or equivalent experience
Experience with specific tools (Servicenow, G Suite, Okta, Jira, Confluence, Airtable) is a plus
What?
As a Project Manager, you will live the Twilio Magic values:
WRITE IT DOWN: Clearly and concisely document all project inputs and outputs and provide key findings and project/program summaries to internal stakeholders. Discern and identify hidden requirements that will impact risk or dependencies during planning, design, and implementation.
DRAW THE OWL: Identify opportunities for operational improvement within Technology Services and drive solution definition.
BE AN OWNER & BE BOLD: Enroll teams in change initiatives and lead them through with little disruption. Lead or assist in defining a project's clear path forward with the right stakeholders. Proactively identify and clearly communicate messages and updates regarding blockers, dependencies, risks, and current status to all stakeholders for IT projects, including escalating through levels of management when necessary.
EMPOWER OTHERS: Interact across multiple functional teams within Technical Services by removing roadblocks and enabling project team members to do their best work.
WEAR THE CUSTOMER'S SHOES: Listen closely to deeply understand business problems and solve the problems from the customer's perspective.
NO SHENANIGANS: Help Tech Services become a trusted business partner by building trust through every interaction with fellow Twilions.
Why?
The Project Management team is central to Tech Service's work execution function. We champion the repeatable mechanism for project work that keeps teams collaborating and working toward a shared vision. We continuously improve our project transparency, communication across teams, and the processes for prioritization and resource allocation within the Tech Services department. We incrementally create value for Tech Services and Twilio by strategically addressing our most difficult problems in a thoughtful manner and delivering high-quality projects.
Twilio is a company that is empowering the world's developers with modern communication in order to build better applications. Twilio is truly unique; we are a company committed to your growth, your learning, your development, and your entire employee experience. We only win when our employees succeed and we're dedicated to helping you develop your strengths. We have a cultural foundation built on diversity, inclusion, and innovation and we want you and your ideas to thrive at Twilio
Where?
We employ diverse talent from all over the world and we believe great work can be done anywhere. Around the world, Twilio offers benefits and perks to support the physical, financial, and emotional well being of you and your loved ones. No matter where you are based, you will experience a company that believes in small teams for maximum impact; seeks well-rounded talent to ensure a full perspective on our customers' experience, understands that this is a marathon, not a sprint; that continuously and purposefully builds an inclusive culture that empowers everyone to do their best work and be the best version of themselves.
About us:
Millions of developers around the world have used Twilio to unlock the magic of communications to improve any human experience. Twilio has democratized communications channels like voice, text, chat, video and email by virtualizing the world's communications infrastructure through APIs that are simple enough for any developer to use, yet robust enough to power the world's most demanding applications. By making communications a part of every software developer's toolkit, Twilio is enabling innovators across every industry from emerging leaders to the world's largest organizations to reinvent how companies engage with their customers.
In accordance with applicable law, the following represents Twilio's reasonable estimate of the range of possible compensation for this role if hired in Colorado.
Salary:
Denver/Boulder Metro: 99,840 - 137,280
Rest of Colorado: 87,360 - 120,120
Additionally, this role is eligible to participate in Twilio's equity plan.
An overview of Twilio's benefits offered is listed below:
Twilio is committed to delivering a comprehensive benefits program that provides support needed for you and your loved ones. It's likely that you don't think about benefits every day; however, they are an important component of your total compensation, and we want you to understand the options available to you so that you can make the most of your benefit dollars. At the time of this posting, this role is eligible to participate in the following benefits, which Twilio reserves the right to modify at any time for any reason in accordance with applicable law:
Healthcare Insurance and Leave
Prescription Drug
Dental
Vision
Flexible Spending and Health Savings Accounts
Leave programs for all of life's moments: maternity, parental/bonding, as well medical leave to care for yourself or a loved one
Financial Benefits
Short and Long Term Disability Insurance
Life and Accidental Death & Dismemberment Insurance
401(k) Retirement Savings Plan with a match
Reimbursement Programs & Stipends
65 per month work-from-home stipend
Up to 50 per month for wellness expenses and activities
Up to 30 per month to use towards books/eBooks
Misc Info For This Position:
Remote Mix: 100% Remote
Position Level: Manager
Job Type: Full-Time
Regional Restrictions: USA Only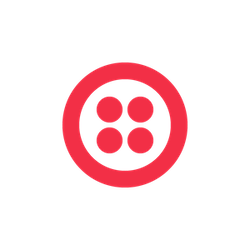 Twilio

United States

Website
Job Info:
100% Remote
Manager
Full-Time
USA