Head of Operations, Core Services
Posted May 10
Join the team as our next Head of Operations for our Core Services Organization.
Who we are & why we're hiring
Twilio powers real-time business communications and data solutions that help companies and developers worldwide build better applications and customer experiences.
Although we're headquartered in San Francisco, we're on a journey to becoming a globally antiracist company that supports diversity, equity & inclusion wherever we do business. We employ thousands of Twilions worldwide, and we're looking for more builders, creators, and visionaries to help fuel our growth momentum.
About the job
This position is one of the most important to the successful execution and operations of our Core Services portfolio. The Head of Operations is needed to partner with product management, engineering, product marketing, sales, customers success and other orgs to drive the successful operations of the Core Services portfolio which includes Infrastructure, Data Platform, Core UX, AI / ML, Transactional Data Services, Response Engineering & SRE. The Head of Operations will report to the VP Core Services and serve as a key member of the leadership team aligning execution, process and business priorities.
Responsibilities
In this role, you'll:
Lead product, engineering and organizational operations while partnerting with other program-oriented individuals across the broader R&D organization and align with the highest priorities for the Core Services portfolio.

Be a player/coach and be willing to do the work, teach the work and hire the best people for the work.

Work with the Product and Engineering teams, plus customer-facing teams in Sales, Services, and Support, to operate key routines and meaningfully improve how we serve our customers and how we deliver products
Build a tight feedback loop within our teams and with our cross-functional partners as you deliver routine processes, understand how they could improve, and then help us prioritize and execute on that plan
Serve as a key member of the Core Services leadership team both driving execution but also helping to drive strategy
Be the key leader driving the Core Services Operating Review where we will focus on program updates and business outcomes as a regular operating cadence including:

Product Roadmaps, Commitments & Timelines (growth, changes, hot spots)
Operational & Service metrics (where we are doing well, where we are not)
HC / Hiring
General Budget
Other leading KPIs and engineering metrics

Become an expert on the Core Services portfolio so that operations is grounded in product and customer success as well as operational excellence.
Coordinate and collaborate across multiple teams and domains at Twilio
Play a critical role creating alignment between Product & Engineering teams, as well as working with the wider Twilio organization
Qualifications
Not all applicants will have skills that match a job description exactly. Twilio values diverse experiences in other industries, and we encourage everyone who meets the required qualifications to apply. While having desired qualifications make for a strong candidate, we encourage applicants with alternative experiences to also apply. If your career is just starting or hasn't followed a traditional path, don't let that stop you from considering Twilio. We are always looking for people who will bring something new to the table!
Required:
10+ year in operations or program management
3+ years in an operational leadership role
Cross-functional experience in a variety of roles like consulting, strategy, business development, sales, project management, and services delivery
Strong knowledge of product operations and Saas execution principles; some experience in product management, marketing, and/or engineering is useful
Strong knowledge of modern (and multiple) software development and Saas delivery methodologies
Strong writing & communication skills with the ability to prioritize and simplify for the sake of execution and efficiency
Desire to continually learn and improve upon existing approaches and methodologies - and create approaches when none exists
A passion for technology, marketing and messaging
Positive, team-oriented demeanor
Desired:
Minimum 6 years of experience in product, engineering or operations - with a strong track record of progressive experience and responsibility
Experienced team leader with ability to build and grow a team
Strong knowledge of infrastructure, distributed systems, software development or related
Background and experience writing and shipping code in one of more programming languages highly preferred
Bachelor degree in computer science, engineering or related field.
Location:
This role will be remote, and based in the USA.
Approximately 10% travel is anticipated.
What We Offer
There are many benefits to working at Twilio, including, in addition to competitive pay, things like generous time-off, ample parental and wellness leave, healthcare, a retirement savings program, and much more. Offerings vary by location.
Twilio thinks big. Do you?
We like to solve problems, take initiative, pitch in when needed, and are always up for trying new things. That's why we seek out colleagues who embody our values something we call Twilio Magic. Additionally, we empower employees to build positive change in their communities by supporting their volunteering and donation efforts.
So, if you're ready to unleash your full potential, do your best work, and be the best version of yourself, apply now!
If this role isn't what you're looking for, please consider other open positions.
(Location dependent information)
Colorado applicants:
The estimated pay range for this role, based in Colorado, is 160,080 - 200,100.
Additionally, this role is eligible to participate in Twilio's equity plan.
The successful candidate's starting salary will be determined based on permissible, non-discriminatory factors such as skills, experience, and geographic location within the state. This role is also eligible to participate in Twilio's equity plan and for the following benefits: health care insurance, 401(k) retirement account, paid sick time, paid personal time off, paid parental leave.
Misc Info For This Position:
Remote Mix: 100% Remote
Job Type: Full-Time
Regional Restrictions: USA Only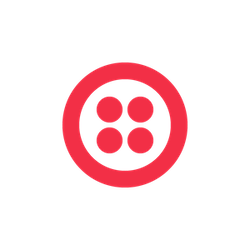 Twilio

United States

Website
Job Info:
100% Remote
Full-Time
USA