Digital Analyst, Marketing Strategy & Analytics
Posted Aug 4
This position is needed to fuel insights and strategic decisions that drive measurable growth across Twilio. You will be responsible for our Google Analytics implementation to accurately capture web data and conversion events for all global domains and subdomains. You will design and build robust analytical frameworks, data products, and web experience analyses to help stakeholders understand current state performance and optimization opportunities. You will be part of a highly visible Strategy & Analytics team within the Marketing organization that serves as a trusted advisor to leadership for measurement, forensics, and insights across the customer journey. Collaborate with great minds across Web, Marketing, the Developer Network, Growth Engineering, Sales, and Finance to implement end-to-end solutions that have direct impact on capturing Twilio's growth and the web experience of customers and prospects worldwide.
Responsibilities
In this role, you'll:
Architect and manage our Google Analytics implementation including data capture through tag management, custom events and goal creation, platform integrations, GA4 migration, and more!
Maintain web analytics documentation to communicate architecture and drive reporting enablement
Build, maintain, and socialize data visualizations to track web performance including KPIs
Capture digital media performance through web systems and assist with performance reporting
Provide a point-of-view on UTM harmonization for analytics and reporting
Set up and manage alerts to keep stakeholders informed of key performance indicators and deltas
Monitor the health of our website and communicate storylines at a weekly cadence to leadership and business stakeholders
Help capture new metrics based on business requirements and team analyses
Architect and leverage a singular view of customers and prospects through web analytics to gain extensive knowledge of customer journeys and translate them into insights
Create and manage dimensional data models and ETL workflows to capture, QA, and store web data across Google BigQuery and other relevant data warehouse environments
Support data science projects that involve digital attribution, predictive LTV and churn, retention, propensity modeling, user behavior predictions, experimentation, and more
Partner with Web, the Developer Network, Demand Generation, Growth Engineering, and other cross-functional teams to provide insights, optimization opportunities, investment allocation suggestions, and drive adoption of data products, models, and dashboards
Qualifications
Not all applicants will have skills that match a job description exactly. Twilio values diverse experiences in other industries, and we encourage everyone who meets the required qualifications to apply. While having desired qualifications make for a strong candidate, we encourage applicants with alternative experiences to also apply. If your career is just starting or hasn't followed a traditional path, don't let that stop you from considering Twilio. We are always looking for people who will bring something new to the table!
Required:
MS/Bachelor's degree in information systems, computer science, statistics, mathematics, digital marketing, business, or another quantitative field
2+ years of experience managing web analytics platforms such as Google Analytics, HEAP, Adobe Analytics, or similar
2+ years experience synthesizing data from web analytics in an industry setting
Experience with HTML and JavaScript
Proficiency with relational data modeling and SQL or web-based technology and databases
Dashboarding skills in visualization tools such as Tableau, Looker, Google Data Studio, or Google Analytics reporting
Understanding and experience with web marketing, digital marketing, and digital media concepts
Strong ability to craft compelling insights, explain data analytics concepts to diverse audiences, and enable data-driven decision-making
Deep focus on execution, follow-through, accountability, attention to detail, documentation, and results
Strong desire for continuous learning and to master all things related to web analytics
Desired:
Fluency in data processing languages, such as Python, R, Scala, etc
Familiarity partnering with multiple business functions such as Web, Demand Generation, Campaigns, Product Management, Engineering, Design, Finance, Customer Research and Data Engineering
Location
This role is a remote contractor position based in the United States.
This role will be remote optional.
Approximately 5% travel or less is anticipated.
Twilio thinks big. Do you?
We like to solve problems, take initiative, pitch in when needed, and are always up for trying new things. That's why we seek out colleagues who embody our values something we call Twilio Magic. Additionally, we empower employees to build positive change in their communities by supporting their volunteering and donation efforts.
So, if you're ready to unleash your full potential, do your best work, and be the best version of yourself, apply now!
Colorado applicants:
The estimated hourly pay range for this role, based in Colorado, is 39.46/hour - 49.32/hour
Misc Info For This Position:
Remote Mix: 100% Remote
Job Type: Contract
Duration: Full-time
Regional Restrictions: USA Only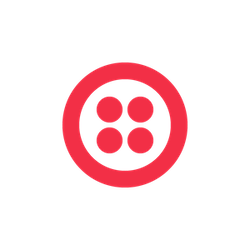 Twilio

United States

Website
Job Info:
100% Remote
Contract
Full-time
USA