Data Solutions Architect
Posted Jan 8
Twilio is growing rapidly and seeking a Data / Solutions Architect to become a member of the Corporate Data Analytics & Infrastructure (CDaX) organization with the focus on data engineering services based in the USA (remote). This will be a senior level position and your responsibility will be to help define strategies and deliver end-to-end data processing and persistence solutions that deliver high performance architectures at a very large scale.
Who
Twilio is looking for a highly technical professional who lives the Twilio Magic and has a proven track record in multi-functional data driven initiatives. Additionally:
Must have the ability to architect structured and unstructured data models in a way that meets stringent performance, privacy, security, and data integrity requirements around extra large data sets (on order of billions per day).
Solid experience in programming languages and various technologies such as : distributed storage, stream analytics, lambda architecture, Relational, KV, Document Store along with understanding of databases, SQL, NOSQL, NEWSQL, is a must. Kubernetes and container orchestration is a plus. Databricks, Snowflake, Segmentation experience is desired.
Experience with application data flows and ability to bridge the gap between technical and business application requirements, and translating business/technical concepts to clearly communicate and present to varying audiences.
Knowledge of One or more data modeling tools, diagramming and artifact generation and presentation skills are required with understanding of software and data architecture patterns and anti-patterns with trade-offs is a must-have skill.
Knowledge of TOGAF, ATAM or other architecture frameworks is a plus.
Consistent record of designing and delivering secure and cost efficient big data processing solutions.
Operational experience: demonstrable ability to deliver fault tolerant, highly available, and maintainable, systems in distributed large scale environments.
What
As a Data / Solutions Architect, you will live the Twilio Magic and:
DRAW THE OWL: You will lead and guide teams in figuring out appropriate technologies, structuring of data, and workflows in support of high scale big data queries and storage.
DONT SETTLE: You will partner with Sr Architects and other engineers to ensure all technology solutions align with product, security, and architecture long term vision and roadmap.
EMPOWER OTHERS: You must be a strong team leader. You enjoy mentoring and collaboration across engineering and product teams.
BE AN OWNER: Ensure the successful delivery of projects from vision, through execution, and reliable, dependable, scalable, operations.
BE INCLUSIVE: To achieve our goals, we need a diverse set of voices in the room. Build diverse teams, and seek out unique points of view..
Why
Our platform processes Billions of events/day Continuing to evolve the CDaX platform to enable additional product offerings that provide deep operational and analytical insights around the key metrics of business units is important to our customers and the success of their business.
Twilio is a company that is empowering the worlds developers with modern communication in order to build better applications. Twilio is truly unique; we are a company committed to your growth, your learning, your development, and your entire employee experience. We only win when our employees succeed, and we're dedicated to helping you develop your strengths.
Misc Info For This Position:
Remote Mix: 100% Remote
Job Type: Full-Time
Regional Restrictions: USA Only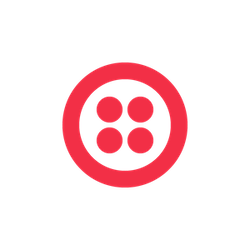 Twilio

United States

Website
Job Info:
100% Remote
Full-Time
USA