Data Analyst at SaaS Startup
Posted Apr 21
Fully remote Data Analyst position Our data analysts are the drivers behind our continued growth and success. Through the usage of quantitative techniques you will extract, analyze, and create visualizations of data for the management team in order to support them in making key decisions.

What we're looking for...
Youre an experienced data or business analyst with several years of professional experience who is passionate about being the gatekeeper for our organization's data so stakeholders can understand data and use it to make strategic business decisions. Your passion for being in a technical role is evident in your approach to working with different data sources from well known platforms. You are someone who will take pride in and enjoy collecting, cleaning, and interpreting data sets in order to answer a question or solve a problem. Your capability to use several tools in order to find the right answer. Our analytical team has an impressive background; want to join an amazing team


Our Tech
We primarily work with SQL. Through BigQuery we maintain a data warehouse with several well known data sources like Google and Heap Analytics.


A bit about the job
Your primary focus for this position will be to extract, analyze, and create visualizations of data for Termlys management team in order to support them in making key decisions. Youll play a critical role in the analyzing process. Termly practices a flexible and adaptable approach to working where independence and self determination are key.
Some specific tasks include:
Support leadership in monitoring and reporting on key performance indicators
Extract, analyze and and report findings from a wide range of data sources, including SQL databases, Google Analytics, product analysis tools, and other sources of large-scale data
Perform basic statistical and causal analysis, including understanding the results of A/B tests and longitudinal changes
Assist in streamlining internal reporting to help inform business decisions and show real-time business performance
Maintain, build and manipulate models for scenario planning and ROI analyses
Coordinate with stakeholders to define problems and design analytical solutions
Engage in ad hoc analyses to obtain answers to key questions as they arise

A bit about us
Termly is in one of the fastest growing fields in software today: privacy, consent, and compliance. Legislators and regulators worldwide are continually adding complexity to their requirements, we help small and medium businesses stay on the right side of all of those by setting up everything their website/app needs to be compliant with data privacy and business laws around the globe. Our modern and easy-to-use solution has helped thousands of companies save millions in legal fees. Our clients include VC-backed startups, private equity backed firms, large multinational companies, and many more Termly is tackling a multi-billion dollar global market with millions of new startups being created every year.
We're organized, experienced, and in growth mode. Termlys remote work approach allows us to have the best people available on our teams. While our headquarters is in Seattle, we embrace a remote-friendly approach. Provided engineers can be online with the rest of the team, typically in the continental US time zones, where you do great work matters less than the work you do.
Requirements
2+ years of proven experience in a statistics, data analysis, business analysis, or data engineering role
Able to write and understand SQL
Strong working knowledge of Microsoft Excel
Practical experience generating business related analytical reports
Understanding of data visualization and ability to create graphs that communicate key information quickly
Proven analytical abilities
Excellent communicator with the ability to translate data into actionable insights
Bachelors or Masters degree in relevant field (especially Mathematics, Statistics, Economics, or Computer Science)
Experience in Data Pipelines/ETL Pipelines
Benefits
Competitive salary
Great medical, dental, and vision plans
Life & disability
401k retirement plan
3 weeks fully paid annual leave, not including 11 paid holidays
Full flexibility to work remote and set your own schedule


Joining a startup doesnt mean compromising on benefits. In addition to the above package, we also provide the chance to work with a highly talented team of experts - and were committed to delivering growth opportunities for anyone hungry and ready to make an impact If you are a talented and ambitious Data Analyst that's ready to take your career to the next level, and want to work with a small group of like minded people, youve come to the right place.
Misc Info For This Position:
Remote Mix: 100% Remote
Job Type: Full-Time
Regional Restrictions: North America Only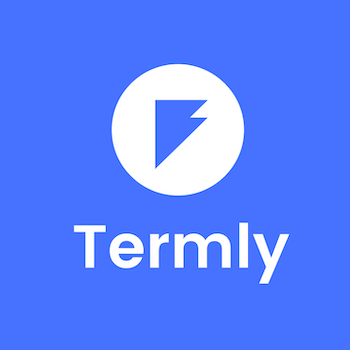 Termly

Seattle,WA
United States

Website
Job Info:
100% Remote
Full-Time
North America