Counsel, Law Enforcement & National Security
Posted Apr 27
We are seeking a dedicated attorney with 2-5 years of relevant legal experience, to support the Global Telecommunication Team's Director and Managing Counsel for Law Enforcement & National Security. The team leads all aspects of Twilio's global law enforcement and regulatory response obligations. You are a fit for this role if you have an understanding of the key legal frameworks for government access to electronic information, particularly in the communications space.
Responsibilities
In this role, you'll:
Help handle incoming requests from law enforcement and regulatory agencies from around the world, ensuring that all requests are scrutinized and handled in strict accordance with applicable laws, our terms of service, and Twilio's law enforcement guidelines.
Partner with teams across Twilio legal to address legal challenges related to law enforcement and national security.
Work cross-functionally with the privacy, communications regulatory, and public policy legal teams, as well as the consumer trust, security, platform integrity and product teams to ensure the company's internal policies and procedures are consistent with our legal obligations and our values, and that these policies and procedures are operationalized appropriately throughout the organization.
Support legal issues related to sensitive subject matters from distributed team members, and cross-functional partners, and collaborate on legal decisions with the broader legal team.
Be expected to understand the importance of data privacy concerns safeguarding the trust of our customers when advising on the company's response to law enforcement and regulatory requests.
Qualifications
Not all applicants will have skills that match a job description exactly. Twilio values diverse experiences in other industries, and we encourage everyone who meets the required qualifications to apply. While having desired qualifications make for a strong candidate, we encourage applicants with alternative experiences to also apply. If your career is just starting or hasn't followed a traditional path, don't let that stop you from considering Twilio. We are always looking for people who will bring something new to the table!
Required:
JD/LLM degree or foreign equivalent and active membership in at least one US state bar
2-5 years of legal experience advising on law enforcement issues that apply to tech and/or telecommunications companies. Familiarity with ECPA and the Stored Communications Act is critical for success in this role; knowledge of CALEA, the CLOUD Act, or FISA is helpful.
Problem-solving and organizational skills and experience running multiple projects with teams across multiple time zones.
Proficient in leading and resolving complex problems and issues. Experience with using judgment in handling sensitive matters and maintaining confidentiality.
Experience building partnerships within legal teams and with a wide range of internal partners to help define government access policies and ensure they are implemented properly and operationally supported.
The ability to communicate professionally and effectively with law enforcement authorities as well as customers and other participants in the telecommunications ecosystem.
Desired:
Experience working at a tech or telecommunications company or with global tech or telecommunications clients.
Experience in law enforcement policy and risk-assessment, drafting regulatory language, and a knowledge of privacy and data security principals.
Location
This role will be Remote - US
Approximately 10% travel is anticipated.
What We Offer
There are many benefits to working at Twilio, including, in addition to competitive pay, things like generous time-off, ample parental and wellness leave, healthcare, a retirement savings program, and much more. Offerings vary by location.
Twilio thinks big. Do you?
We like to solve problems, take initiative, pitch in when needed, and are always up for trying new things. That's why we seek out colleagues who embody our values something we call Twilio Magic. Additionally, we empower employees to build positive change in their communities by supporting their volunteering and donation efforts.
So, if you're ready to unleash your full potential, do your best work, and be the best version of yourself, apply now!
If this role isn't what you're looking for, please consider other open positions.
(Location dependent information)
Colorado applicants:
The estimated pay range for this role, based in Colorado, is 145,520 - 181,900
Sales Commission: Additionally, this role is eligible to earn commissions and eligible to participate in Twilio's equity plan.
Non-Sales: Additionally, this role is eligible to participate in Twilio's equity plan.
The successful candidate's starting salary will be determined based on permissible, non-discriminatory factors such as skills, experience, and geographic location within the state. This role is also eligible to participate in Twilio's equity plan and for the following benefits: health care insurance, 401(k) retirement account, paid sick time, paid personal time off, paid parental leave.
Misc Info For This Position:
Remote Mix: 100% Remote
Job Type: Full-Time
Regional Restrictions: USA Only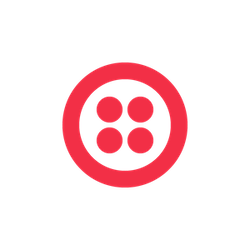 Twilio

United States

Website
Job Info:
100% Remote
Full-Time
USA