Contact Center - Flex Sales Specialist
Posted Apr 25
Twilio is looking for a Contact Center Specialty Sales Representative to prospect and manage high value Call Center prospects/customers. The candidate will own the fast growing Call center business, and source new opportunities for a fundamentally better way to meet the needs of customer care organizations. Responsibilities will span driving the sales process from internal leads as well as qualifying new prospects and manage these deals to close.
Who?
We are looking for proven Sales Specialists to focus on Contact Centers and looking to grow their career in the fast-growing cloud market.
The ideal candidate has at least 5+ years of experience selling into Mid-Market, Enterprise or Verticals Call Centers, with a deep understanding of the contact center sales motion and constituents, and a proven track record of success.
We have a full lead pipeline driven by our self-service product and a sales development team creating highly qualified leads for the sales team. You will be responsible for driving these leads through the entire sales cycle to close, employing a solution-oriented sales methodology with a focus on use cases spanning omni-channel communications.
You'll be working with global 2,000 and large to medium sized customers across all verticals to understand their business and technical requirements, understand the capabilities of Twilio's communications API platform so that together you can design a next generation solution for their specific use case needs while adopting Twilio's cloud communication services.
Our customers are VP of Customer Experience, Care and Service, VP of Omni-channel and Digital Strategy, Product Managers, Application owners, VP's of Innovation. You must be capable of communicating at all levels of the customer organization to developers, managers, and executives of any organization.
What?
We get many highly-qualified prospects every day from corporations already interested in using our platform. Prospects come in via phone, email, and our self-service product. You will employ a solution selling methodology to drive these leads through a high-velocity pipeline.
Execute against all phases of your pipeline, progressing deals through the sales cycle towards closing business.
Exceed plan annual plan on a quarterly basis.
Work with Marketing and Demand Gen teams to grow pipeline.
You've demonstrated success selling a software or SaaS solution for at least 5 years.
You have a track record of personally selling and closing complex technical solutions to enterprises and software companies in excess of 100k.
You understand the cloud computing/communications business model and enjoy selling to a technical audience and building mutual trust.
You embrace a solution-oriented approach to selling, ensuring your customers receive value from the products they buy from you.
Experience creating pricing proposals, negotiating terms, and managing the contract process.
Ethical. Hands on. Passionate. Persistent. Creative.
You know how to take ownership, operate autonomously, and have a strong bias for action
World-class interpersonal and communication skills. You have the ability to effortlessly make complex contractual, technical, and financial details sounds simple.
The ability to listen first and add value in every conversation.
Ability to balance competing priorities and manage multiple projects/deals at the same time.
Bonus points:
Ideally, you have prior experience successfully selling in an overlay sales model and can drive cross functional teams to support your sales efforts.
Previous experience in the cloud or enterprise software space.
BA/BS from a competitive school and/or an MBA.
Where?
This position will be fully remote in the US.
Why?
Twilio is a company that is empowering the world's developers with modern communication in order to build better applications. The Global Sales team plays an integral role in building out our customer base and bringing Twilio to developers, non-profits and enterprise to make an impact on their services. Twilio is truly unique; we are a company committed to your growth, your learning, your development and your entire employee experience.
We only win when our employees succeed and we're dedicated to helping you develop your strengths. We invest in weeks dedicated to tackling hard problems and creating your own ideas. We have a cultural foundation built on diversity, inclusion and innovation and we want you and your ideas to thrive at Twilio. Come join us.
Misc Info For This Position:
Remote Mix: 100% Remote
Job Type: Full-Time
Regional Restrictions: USA Only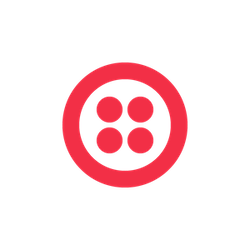 Twilio

United States

Website
Job Info:
100% Remote
Full-Time
USA