BI Engineer and Advocate, Platform Engineering
Posted Dec 2
We are one of the most popular websites in the world - a community-based space focused on increasing productivity, decreasing cycle times, accelerating time to market, and protecting institutional knowledge.
Innovation is at the heart of everything we do. We embrace collaboration, transparency, and believe in leading with empathy; creating an environment where every Stacker knows they belong. We embrace that the unique contributions and points of view of all Stackers contribute to our success.
We are a Best Company to Work For, in addition to being recognized for Best Company Leadership, Best Company Happiness, Best Company Perks and Benefits, Best Company Work-Life Balance, Best Company Compensation, and Best Company Outlook.
We are a remote-first company with Hiring HUBs based in the US, Canada, UK, and Germany.
The Data Platform team at Stack Overflow builds and maintains data processing, analytic pipelines, Machine Learning models, and Snowflake databases. The BI Engineer and Advocate will join the Data Platform team to drive the development and adoption of BI solutions, enabling Stackers to use data to make decisions at every level of the business. You'll be a key part of our mission to empower every Stacker to use data to solve problems, identify insights, and do their best work.
The BI Engineer and Advocate will work with the Data Platform team and Stackers across the company to:
Build a vibrant data community by leading Stack's Data Insights Guild, a community of practice focused on data education and insights generation.
Design and contribute to a user training program to enable BI tool adoption across Stack.
Communicate and train Stackers on available datasets and data models, data integrity issues, nuances of data consistency, and opportunities to leverage data.
Collaborate with Analysts, stakeholders, and Data Engineers to create technical definitions and requirements based on business needs and product strategy.
Act as a subject matter expert in the data space. This includes advocating for and helping build sound, reusable data models as well as advocating for data validation processes, standards for data quality, and best practices in analytics and data sharing.
Drive the creation and adoption of best practices for BI development workflows, including the use of version control, CI/CD pipelines, and rollback processes for datasets and reports.
Forecast needs and opportunities for Data Platform growth by developing relationships with Stackers and collaborating with Stackers over time.
Influence the design and processes of the Data Platform by working closely with Data Engineers, including contributions to architecture, data governance, and observability.
We expect to see:
3+ years hands-on experience building BI solutions with one or more tools (for example, Power BI, Tableau, Looker).
4+ years hands-on experience working with large datasets in the areas of data modeling, data engineering/transformation, or data analytics.
4+ years working SQL knowledge and experience working with relational databases, data warehouses, query authoring, as well as a working familiarity with a variety of database platforms.
Experience training or educating users, peers, or community members on Business Intelligence or data-related topics.
Autonomy and creativity: you are self-motivating, self-directing, and a great communicator (written and oral).
Excellent problem solving skills. You excel at analyzing and solving problems using technology.
Living and working within GMT-7:00 (US) to GMT+2:00 (Europe) time zones.
We like to see (but not required):
Experience working hands-on with Power BI and/or Snowflake.
Experience working remotely and/or working with teams that are distributed geographically.
An active Stack Overflow profile, blog posts describing BI related solutions or learning, and/or example projects that you're proud of (whether open source or worked on at a previous job), or any other evidence of your passion for building great BI solutions.
Experience with leveraging cloud-native technologies and techniques to build BI solutions.
An understanding of version control and the software development life cycle in an Agile environment.
Knowledge of how Stack Overflow works from our blog, podcasts, and other public artifacts. Ideas about how to evolve the platform and increase our impact on the developer community are even better.
Base salary will range from:
128k - 150k USD
What You'll Get in Return:
Competitive Base Salary
Generous paid vacation
Generous parental leave (16 weeks at 100% pay), family care leave, and unlimited sick days
Equity (RSUs) for all employees at all levels
Industry-leading health benefits that are applicable per country of residence for all our full-time employees
Company-paid Life Insurance
Health & wellness stipend
Home Internet stipend
Professional allocation for your growth and development
Home office allowance of 2,000 (for remote employees) with an additional 450 allowance on each anniversary date
Company-paid access to Calm, Bravely, LinkedIn Learning, MyAcademy and Overdrive
Stack Overflow is proud to be an equal opportunity workplace. We value diversity, inclusion, equity and belonging and these pillars are at the heart of how we work together here at Stack. All qualified applicants will receive consideration for employment without regard to race, color, religion, sex, sexual orientation, gender identity, national origin, or any other applicable legally protected characteristics in the location in which the candidate is applying.
For individuals based in California, and other locations where required, we will consider employment qualified applicants with arrest and conviction records.
Misc Info For This Position:
Remote Mix: 100% Remote
Job Type: Full-Time
Regional Restrictions: USA Only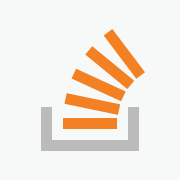 Stack Overflow

New York,NY
United States

Website
Job Info:
100% Remote
Full-Time
USA